Peptides are one of the most talked about ingredients in the field of skincare right now. You've more than likely heard the buzz around peptides as a must-have anti-ageing addition to an everyday skincare routine that help to smooth wrinkles and firm – but have you ever wondered exactly what a peptide is and what it does for the skin? Well, that's why No7 are here to talk you through everything you've ever wanted to know about this group of age-defying ingredients.
What Are Peptides?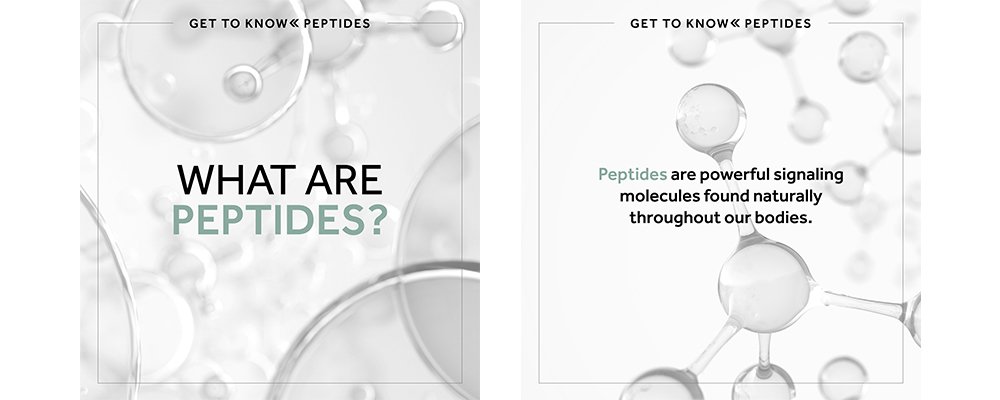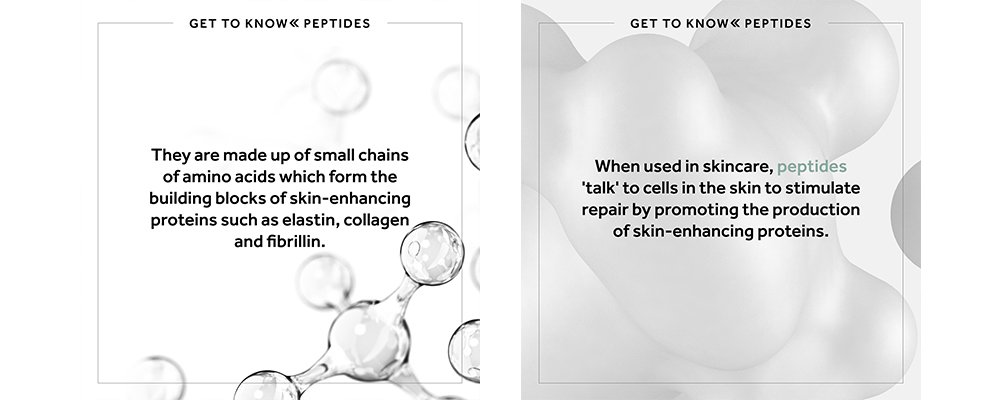 An essential ingredient in the battle against the visible signs of ageing, peptides are short chains of amino acids that act as building blocks of proteins such as collagen, elastin and keratin. These proteins form the foundations of your skin and are directly responsible for its texture, strength and resilience. There are  many different peptides, all of which are made up from different combinations of amino acids.
How Peptides Work in Skincare
If peptides already exist within the body, then why do we need even more of them? Collagen in the skin naturally depletes with age and can be damaged even more quickly by chronic UV exposure. Peptides help to reinforce the proteins that occur in the skin, therefore rejuvenating and maintaining it. When peptides are applied to the skin in the form of a moisturiser or a serum, your body sees them as a sign that it needs to start healing itself, which actively promotes the production of collagen.
The addition of peptides into your skincare routine encourages your skin to boost its levels of collagen, which helps to plump, restore and strengthen a healthy skin barrier.
Different types of peptides have different effects, from smoothing wrinkles and repairing function, to increasing firmness and hydration. Several peptides can be combined in one product and most are found in anti-ageing products for skin that has started to show a decrease in the production of those essential proteins.
No7 Peptide Technology
A world first. Reverse the visible signs of skin damage
From the UK's No1 skincare brand, No7 brings you No7 Future Renew powered by pepticology™, a world-first peptide technology. Exclusive to No7, this breakthrough technology supports skin's natural self-repair. With damage reversal skincare products with peptides for both your day and night to include in your skincare routines to reverse the visible signs of skincare damage*
*Consumer study. Users saw a reversal in: appearance of fine lines and wrinkles, uneven tone and texture, dryness; feel of lost elasticity."
Every Skin Tells a Story
No7 brings you No7 Future Renew powered by pepticology™, a world-first peptide technology. Exclusive to No7, this breakthrough technology combined with other ingredients to create products that can support skin's self-repair process. Our range of products includes serum, day, night and eye cream and reverses visible signs of skin damage; the appearance of fine lines and wrinkles, uneven skin tone and lack of firmness* Hear what you had to say about the range:
‌"Thank you No7 for giving me that smile back and the glow I seemed to have lost somewhere along the way!"
"I now take that 5 minutes to myself, something I didn't think I had time to do!! I take my makeup off, put my cream on and actually look forward to doing it!"
"I can honestly say that No7 Future Renew has given me my confidence back"
Are Peptides Enough on Their Own?
While it's clear that peptides are a great addition to your skincare routine, as an isolated ingredient they are not quite enough. Due to their function in helping to reinforce essential proteins in the skin, peptides are powerful anti-ageing ingredients to include in your everyday regime. They are most effective when combined with other potent ingredients such as hyaluronic acid, antioxidants and amino acids. If your ultimate goal is smoother, hydrated, firmer and younger-looking skin, you will need to use other ingredients in addition to peptides.
Because there are so many different peptides, having them combined in one product can allow you to target several different signs of ageing all at once, as well as reinforcing skin's own protective functions. Our clinically proven age-defying ranges are formulated with Matrixyl 3000+™, our powerful anti-wrinkle peptide technology featuring a supercharged skin-replenishing formula. Combined with our firming and fortifying complexes containing hyaluronic and amino acids, our peptide technology works in harmony with the other ingredients in the formulation to help target the five key signs of ageing, for younger-looking face and neck.
No7's patented peptide; Matrixyl 3000 Plus™
Matrixyl 3000 Plus is a collagen-based peptide technology that boosts collagen and fibrillin for a more youthful appearance. A mighty, age-defying peptide complex that's like no other. Learn all about how it works in our handy tell-all video.