Retinol | No7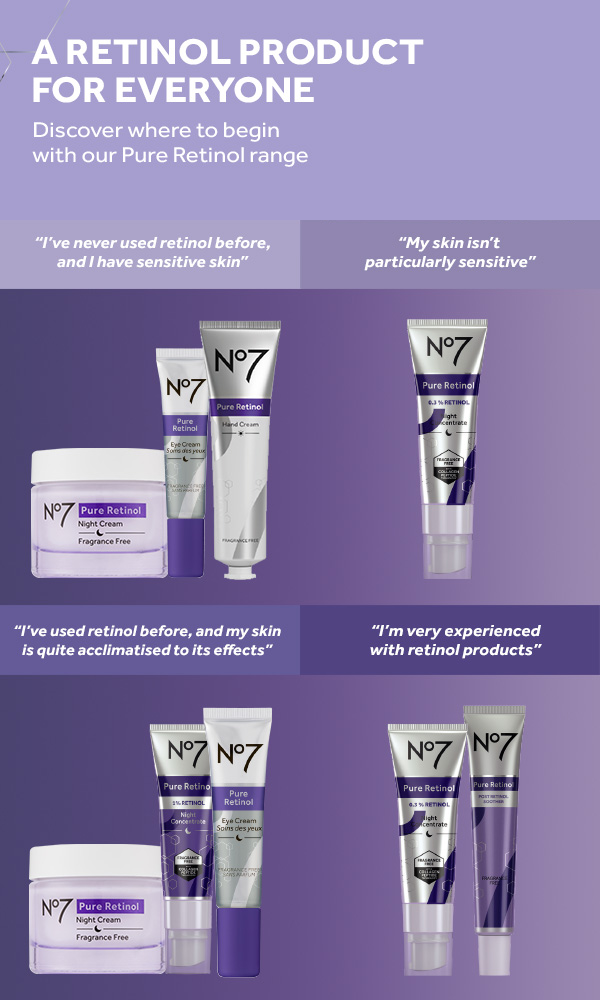 FAQ's
While vitamin C works better throughout the day to protect skin against environmental aggressors, retinol repairs skin throughout the night. We recommend waking skin up in the morning with a vitamin C-infused moisturiser for a touch of extra radiance and applying your retinol in the evening as part of your wind-down routine.
In the morning, make sure you use a high SPF day cream to protect you from UVA and UVB rays (our motto is always the higher the better!). This is because the use of retinol can increase your skin's sensitivity to the sun.
In the early stages of retinol use, you may experience some redness and dryness on your skin's surface. Don't worry though, as this is completely normal. With our unique blend of ingredients, we've ensured the No7 formula of our 0.3% Pure Retinol is kinder on your skin. You can also help reduce the effects by introducing retinol into your routine gradually, as well as following each use with a rich moisturiser to make sure skin is kept soothed and hydrated.
With the launch of our Pure Retinol range, we've renamed our Advanced Retinol 1.5% Complex Night Concentrate in the interests of making sure all of our retinol products are part of one clear, easy-to-shop franchise. It's now available as Pure Retinol 0.3% Retinol Night Concentrate, along with the addition of a NEW higher strength 1% Retinol Night Concentrate.
Why was it 1.5% before, we hear you ask? In actuality, the amount of pure retinol in the product remained the same previously (0.3%), with the 1.5% referring specifically to the complex which this retinol was blended with. This was made up of the pure retinol itself, our optimiser encapsulation technology which protected the retinol in the formulation, and a soothing ingredient.
LEARN MORE ABOUT OUR SKINCARE INGREDIENTS