No7 Pro Derm Scan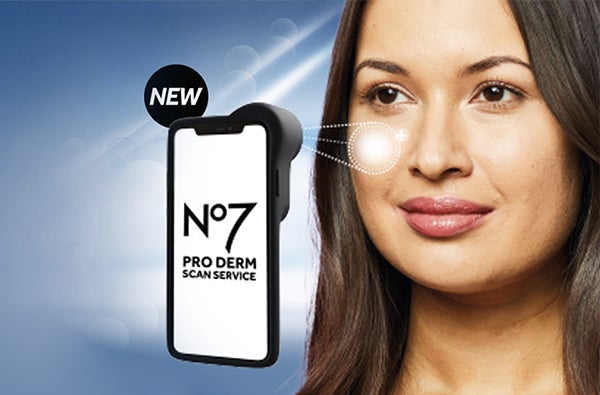 SEE YOUR SKIN LIKE NEVER BEFORE
Game-changing skin analysis technology & expert advice that delivers the right product recommendations for you.
SCIENTIFICALLY VALIDATED TECHNOLOGY
The first and only service of its kind to be available nationwide, powered by No7 Skin Expert ™ technology using advanced machine learning to provide a highly accurate and scientifically validated measurement of your skin. No7 Pro Derm Scan is an-store No7 Beauty Advisor-led personalised consultation service to help you see and understand your skin. It uses a dermatologist-grade device to analyse your skin and skintone simultaneously and works across all skin types and tones.
DERMATOLOGIST-GRADE DEVICE
The Pro Derm Scan device has been developed over 6 years, tried and tested on over 6000 No7 customers** and is an award-winning device. The device delivers high-resolution scanning that detects very early, subtle changes to skin before they become apparent to the naked eye through its Hydration Sensing, Magnification, and Special Lighting features. The results of the analysis will then allow your No7 Advisor to recommend the best skincare products and skin regime, foundation range or shade match for your unique skin and lifestyle needs. Pro Derm Scan offers you 4 different types of consultations with 20 million skin areas analysed per scan:
DON'T WANT TO VISIT A STORE?
Try our online Personalised Skin Analysis powered by No7 Skin Expert™ Technology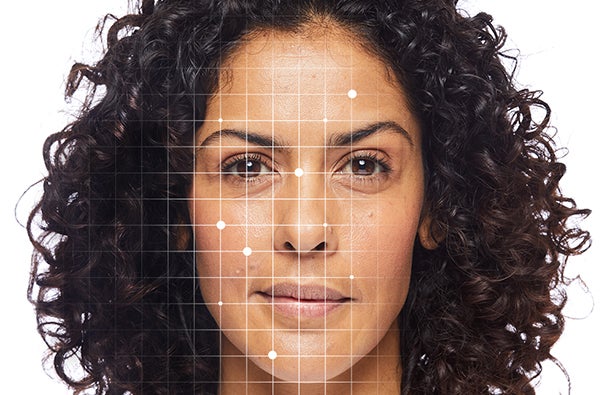 PERSONALISED SKIN ANALYSIS
Our AI technology analyses your skin to help find the right products for your skin concerns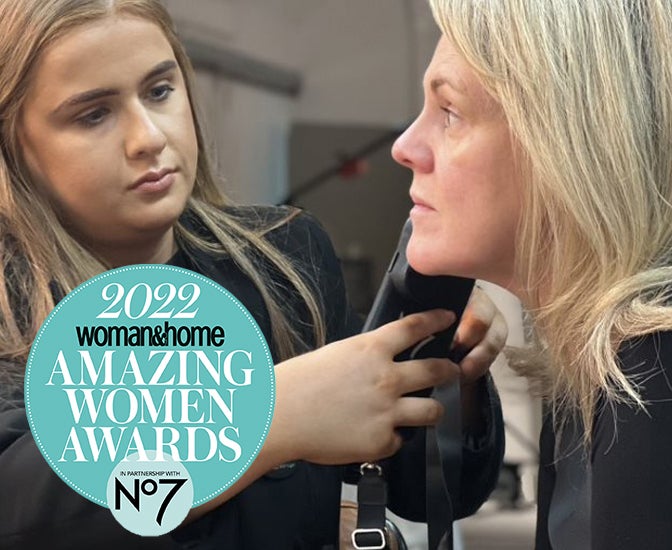 WOMEN & HOME PARTNERSHIP
As this years sponsor of Women & Home amazing women awards we gave each lady a chance to try our new Pro Derm Scan before anyone else. As well as sponsoring the 12 incredible women, who were treated to the full Pro Derm Scan experience at a photoshoot earlier in the year, the brand have also secured a whopping 13 pieces of content running across the Woman & Home website. Content will range from expertise-led pieces featuring No7 makeup ambassador Joy Adenuga, to features on inspiring women from around the UK.
Speaking about the awards, Catherine Westwood, Editor-in-Chief, says in her editor's letter: 'Here at woman&home we're all about celebrating midlife, and there's no better way of doing this than through our Amazing Women Awards, in partnership with No7. We've dedicated a whole section to the outstanding achievements of 13 remarkable women. We hope you feel as inspired as we are reading their incredible, uplifting stories of how they were unafraid to pursue their passion, many to the benefit of others.'
Look out for the June edition of the magazine, on shelves now! Follow No7 on Instagram to keep updated.
We want to hear your feedback don't forget to tell us what you think using #No7SeeYourSkin
*This is during the 3-month trial.
**Tried and tested.
†UK. ROI. 18+. Purchase required. If you are not 100% satisfied with the results of your No7 Skincare purchase after using for four weeks we will give you your money back (via cheque or Advantage Card Points, depending on original payment method). Exclusions apply. You will be required to print and complete the online claim form and mail to our FREEPOST address with at least 50% of the relevant product remaining, an explanation with min. 30 words on why you're not 100% satisfied and your receipt. If four weeks of usage, as per the product instructions, means that less than 50% of the product remains, you will still be entitled to claim your money back. Max. one claim per household. Full details on how to claim and T&Cs at https://www.no7beauty.co.uk/no7-skin-challenge.list. Applies to purchases between 6 April - 31 May 2022, no returns after 12 July 2022.
Source: Kantar Total Market | 52 w/e 26th December 2021 | Boots No.7 Value Share of Mass Female/Unisex Skincare.