Discover the skincare solution that's right for you
No7's age-defying skincare solutions are powered by ground-breaking science and advanced technology to target your specific skin concerns, helping your skin to look the best it can today and tomorrow.
Each of our regimes specifically target different skin needs, meaning there will always be a skincare range for you. We've broken down our recommended age-defying night-time and daytime regimes step by step to help you understand how to get the most out of your regime.
Daytime regime

1. Choose your booster serum
Apply your choice of our targeted Booster Serums (or even combine all three) directly to your problem area for powerful and specific skincare where you need it most.
2. Add your serum
Follow up with one of our age-defying serums all over your face and neck. Powerful age-defying ingredients penetrate your skin 10 surface layers deep, dramatically slowing the signs of ageing.
3. Skin protection
Once your serum has fully absorbed, shield your skin from ageing UV rays with your chosen No7 Day Cream for deep moisturisation & SPF15 and 5-star UVA protection. Remember, if you're using our No7 Advanced Retinol 1.% Complex Night Concentrate, make sure you don't skip the SPF step.
4. Tailored to you
For solutions to defy specific signs of ageing, choose from our selection of eye creams and face masks to step change your routine.
Evening regime:

1. Advanced Retinol Night Concentrate
As part of your evening regime, use our clinically proven concentrate that delivers 10 skin results once or twice a week, gradually building up to nightly use after 4 weeks. Apply to a clean, dry face, making sure to avoid the sensitive eye and lip areas.
As Retinol can increase your skin's sensitivity, it's important you use SPF in your morning routine to protect your skin against harmful UV rays.
2. Next up, your serum
As soon as your No7 Advanced Retinol 1.5% Complex has been fully absorbed, follow up with your chosen No7 age-defying serum to your face and neck.
3. Night cream
Once your serum has sunk in nicely, grab your favourite No7 night cream, which work in harmony with your skin's natural night-time repair and replace any moisture that is lost.
4. Added extras
To get the most out of our age-defying solutions, add on one of our tailored treatments, such as our range of eye creams for the more sensitive fine lines and wrinkles or one of our advanced skin pastes.
The right regime for you
If you're not sure which No7 age-defying regime is right for your skin concerns, why not try our personalised skin analysis technology or chat to one of our friendly beauty advisors online?

Early Defence
Recommended age guide: 20-35 years old
Boosts and protects young skin's natural defences and barriers to keep it looking younger for longer*
Protect & Perfect
Recommended age guide: 30-45 years old
Our original breakthrough regime. Proven to reduce the appearance of fine links and wrinkles*

Lift & Luminate
Recommended age guide: 45-60 years old
Proven to reduce the appearance of fine lines and wrinkles, whilst leaving your skin feeling firmer with a more even skin tone*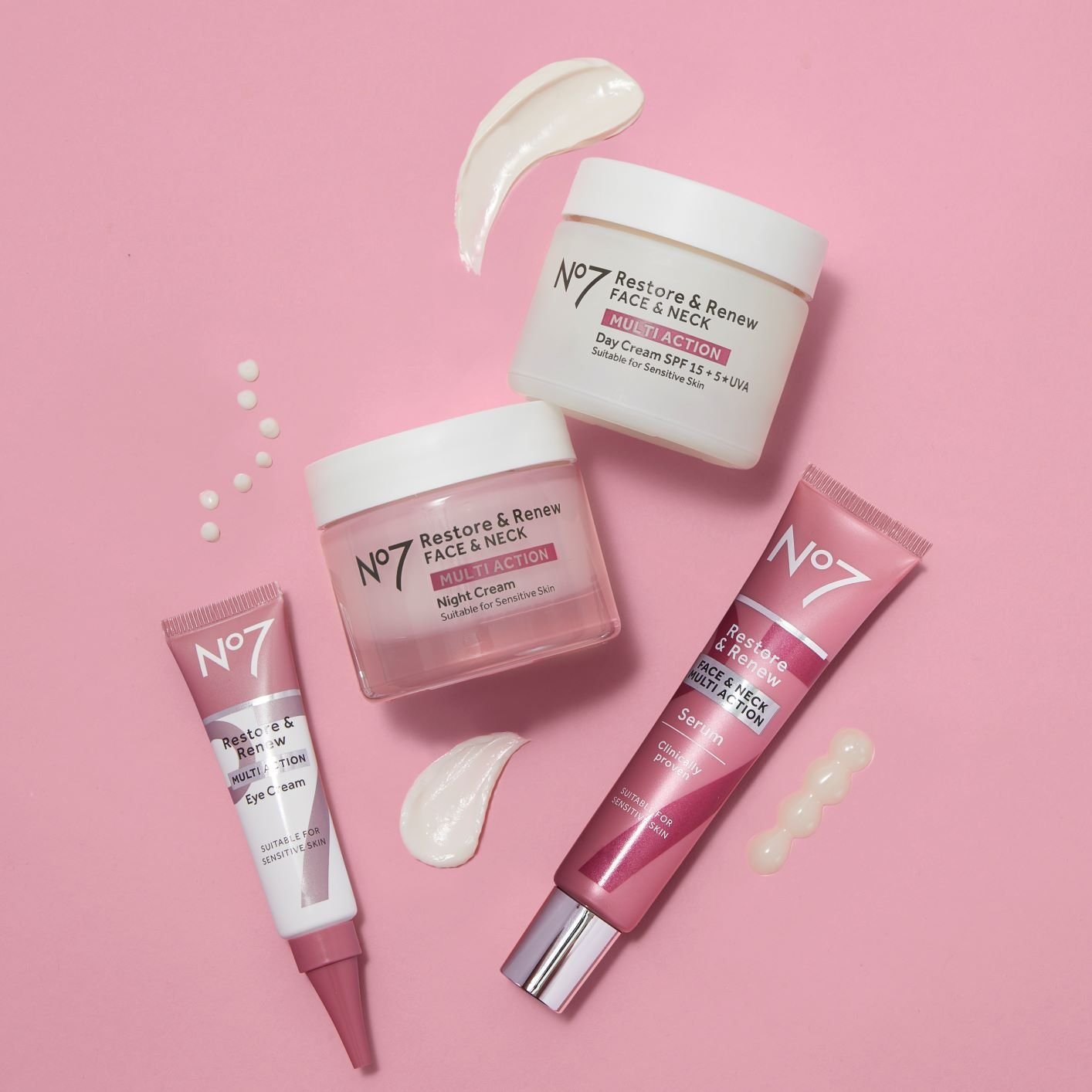 Re
store & Renew
Recommended age guide: 60+ years old
Our most advanced age-defying regime yet. Proven to uncover not only a firmer feeling, lifted, smoother and more even looking face, but neck too.*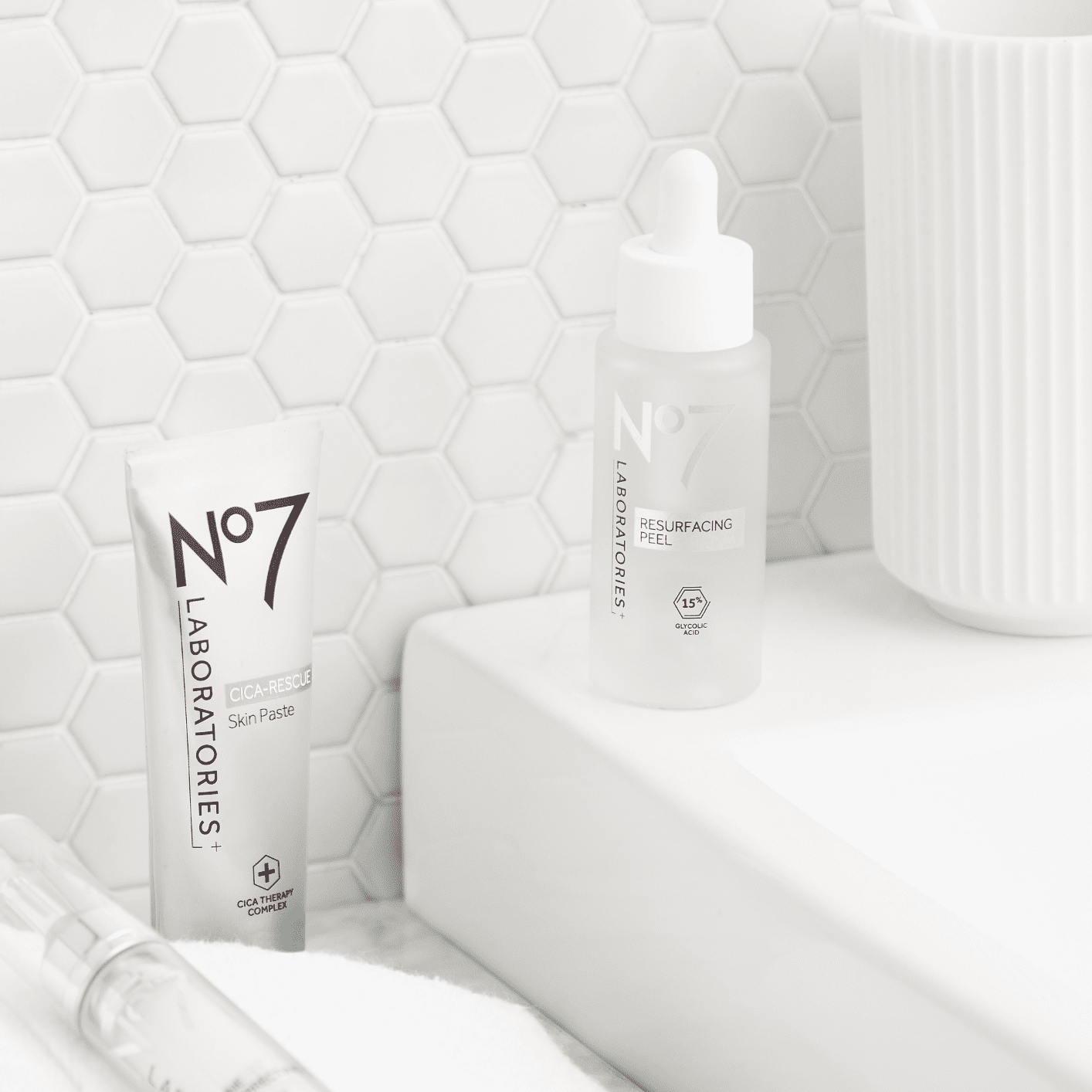 LABORATORIES
Experience breakthrough, real results with No7 LABORATORIES. From targeted serums to specific skin pastes, this range is designed to deliver results for your deepest skincare concerns that you never thought possible from skin products alone.
About No7
Whether you're looking to reduce key signs of ageing, soothe dry skin or boost your radiance, the No7 skincare range has it all. We have formulated our products with skincare experts using the most advanced technology to target the most specific of skincare needs. From serums to moisturisers, eye creams to sheet masks, there's a product for everyone.
We've put everything we know about skin (which trust us, is a lot) into creating the No7 skincare brand. Shop our range or talk to one of our Beauty Advisors to kickstart your No7 journey now.
*Based on consumer studies.