Understanding No7's Advanced Retinol 1.5% Complex Night Concentrate
Understanding Advanced Retinol 1.5% Complex Night Concentrate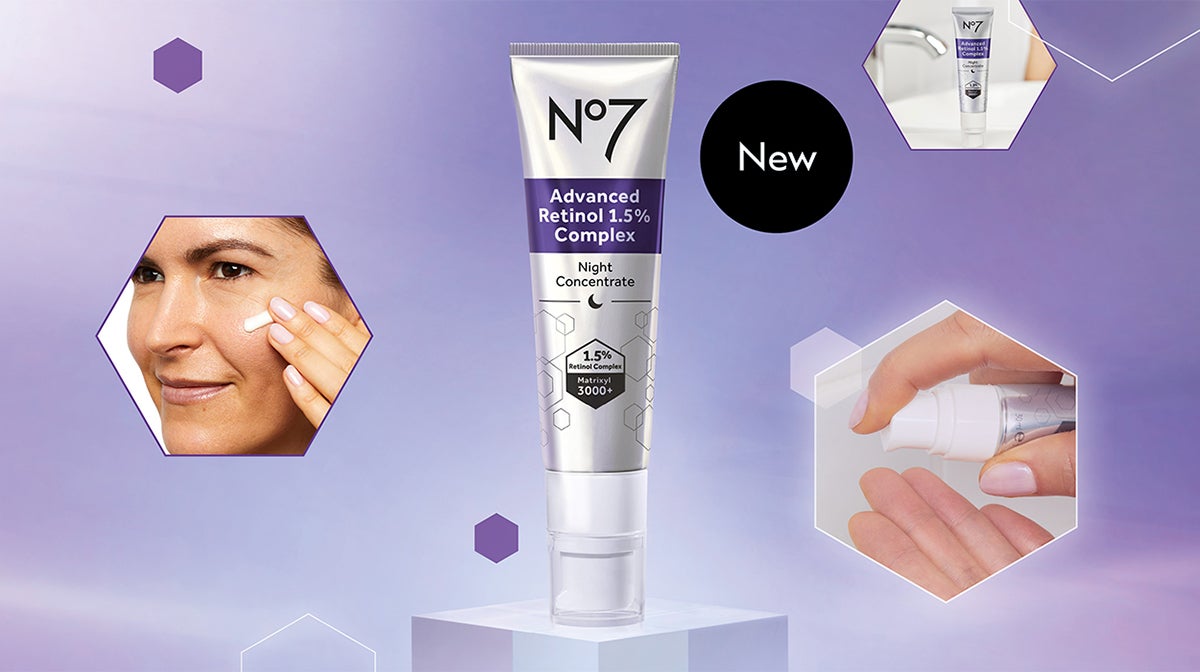 MYTH-BUSTING RETINOL
Adding another step or ingredient into your normal skincare regime can be a little offputting, especially if you're not sure how your skin might react. That's where the experts at No7 come in, to bust some myths surrounding Retinol. If you're nervous about using a new ingredient, we've got some answers to put your mind at ease. Still concernced? Why not chat to one of our Beauty Advisors online. They can help answer any queries or concerns about any product, including the new clinically proven No7 Advanced Retinol 1.5% Complex Night Concentrate.

Facts
1. Our 1.5% Retinol Complex consists of the perfect blend of 0.3% retinol for the proven sweet-spot to deliver effective results with reduced sensitivity*. In this groundbreaking formula, our complex is combined with MATRIXYL 3000 PLUS™ for 360° results to combate ageing.

2. It's true that in the early stages of Retinol use, it may cause some redness and drynnes on your skin's surface. Don't worry, though, as this is completely normal. With our unique blend of ingredients, we've ensured the No7 formula is kinder on your skin. You can also help reduce the effects by introducing Retinol into your routine gradually, as well as following each use with a rich moisturiser to make sure skin is kept soothed and hydrated.

3. There's absolutely no reason to let Retinol use ruin quality time outside. Whilst Retinol can make the skin more sensitive to UV radiation, this can easily be protected against through daily use of SPF. We recommend a minimum of SPF 15 evert morning (which is found in all of our age-defying day creams), but of course the higher the better. Try to limit sun exposure during the hottest part of the day, too. Why not check out our great range of face specialist suncare?
4. Here at No7 we have over 80 years of skincare expertise under our belt. Our scientists have discovered that 0.3% of Retinol delivers the perfect balance of remarkable, age-defying results whilst helping to minimise any sensitivity of the skin. That's the No7 difference.
How to use retinol
• Apply two pumps to a clean, dry face, avoiding the the delicate eye and outer eye area, plus lips

• Let the product completely absorb before applying your usual No7 serum. Serums have a lipid-soluble base which ensures the active ingredients can penetrate into the top layer of your skin, instead of lying on the surface

• Finish your routine with your night moisturiser, locking in hydration and avoiding any flaky skin
• In the morning, make sure you use a minimum of SPF 15 to protect you from UVA and UVB rays (we encourage the higher the better!). This is because the use of retinol can increase your skin's sensitivity to the sun
CONSIDERATIONS:
We recommend you start by using our night complex 2 times per week on non-consecutive nights, making sure you continue to apply a night moisturiser every night particularly during retinol use.
You can then gradually increase the frequency to every other night, then every night as much as your skin can tolerate. The best results will be achieved if you use it nightly, but this might be too much depending on the sensitivity of your skin. As a guide, it normally takes around 4 weeks for your skin to be comfortable with nightly use. Listen to your skin, though - there's no need to rush and you will still get great benefits even if you don't use every night!
Make sure to avoid using peels and exfoliators whilst using retinol.
If you're unsure about adding Retinol to your regime, why not chat with one of our Beauty Advisors online? They can help answer any queries and find your perfect No7 skincare regime.
More from No7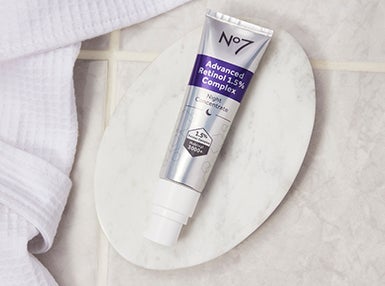 Your Regime
Find your perfect No7 regime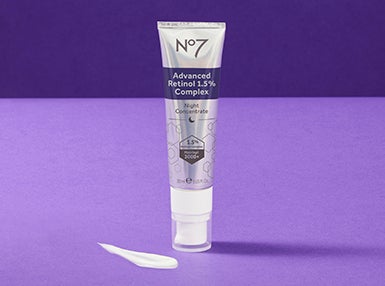 Shop Retinol
Discover No7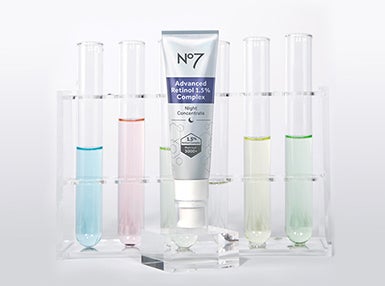 NO7
Whether you're looking to reduce key signs of ageing, soothe dry skin or boost your radiance, the No7 skincare range has it all. Our new clinically proven No7 Advanced Retinol 1.5% Complex Night Concentrate reduces the look of deep wrinkles, fine lines and pigmentation to live skin feeling refreshed, renewed and restored. No7 helps you wake up to brighter-looking, smoother-feeling skin. We've helped to bust the myths surrounding retinol to ensure you feel most comfortable in using it as part of your No7 skincare routine.
We've put everything we know about skin (which trust us, is a lot) into creating the No7 skincare brand. Shop our range or talk to one of our Beauty Advisors to kickstart your No7 journey now.
*When used as directed.