No7 Advanced Retinol Concentrate - FAQs
No7 Retinol Frequently Asked Questions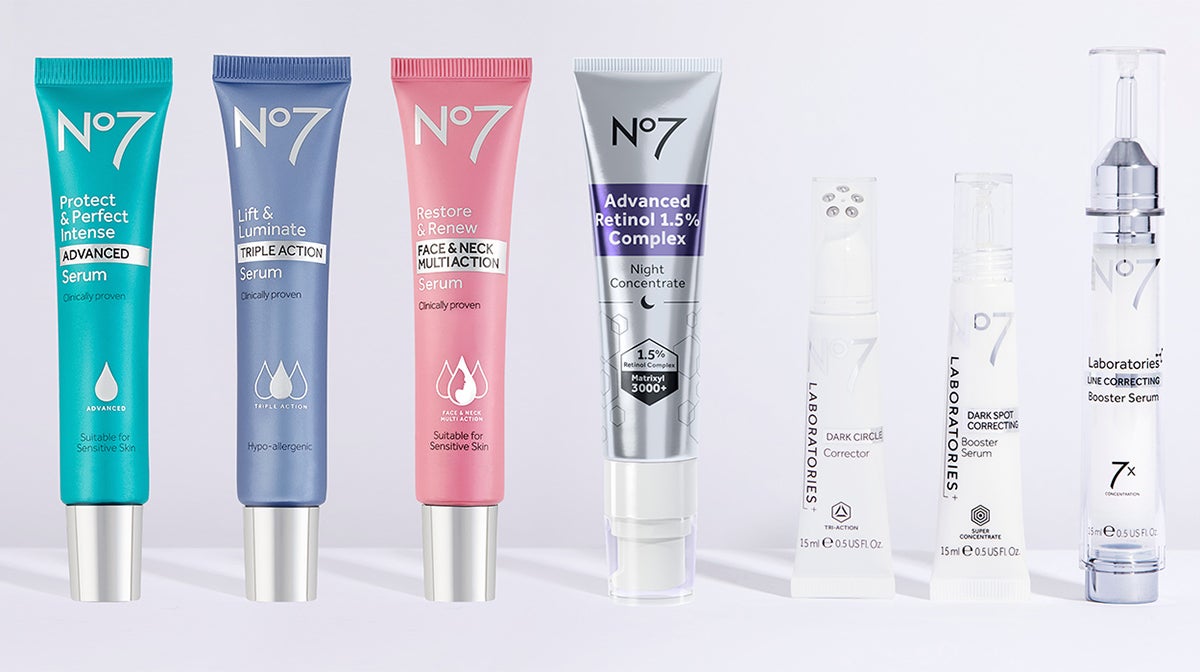 HOW SHOULD I START USING RETINOL?

Even if you've used a Retinol product before, we recommend that you start using the No7 complex slowly to allow your skin to adapt and build tolerance. Try and limit use to twice a week maximum to begin with on non-consecutive nights, before gradually building up to nightly use if your skin doesn't mind it. Make sure you go at the pace of your skin - as a guide, it should take roughly 4 weeks to work up to consistent nightly use.
IS IT OK TO USE NO7 RETINOL NIGHT CONCENTRATE ON MY BLEMISHES?
No7's Advanced complex is safe for use on every skin type. However, if you have super sensitive skin we encourage careful use. It's also not suitable to be used on broken or inflamed skin.
CAN I USE THIS IN THE MORNING IF I STILL USE AN SPF AFTERWARDS?
Because some people might experience an increase in sensitivity when their skin is exposed to daylight after use, No7 Retinol Night Concentrate is designed for use in the evening only. We still recommend you use a minimum of SPF15 in the morning, too.

WHAT ARE THE SKIN BENEFITS?
The proven results of our Retinol complex have been groundbreaking. The night concentrate kick starts skin renewal on the surface from the very first use, working night after night to deliver 10 amazing benefits, including:
• Smoothed appearance of fine lines and wrinkles
• Evened skin tone
• Firmed skin for a lifted appearance
• Brightened skin to give off a healthy, radiant glow
• Refined pores and smoothed texture

WILL USING NO7 RETINOL NIGHT CONCENTRATE MAKE MY SKIN BURN EASIER?
The use of Retinol in your evening skincare routine can indeed make your skin more sensitive to the negative effects of the sun. Therefore, we encourage all to wear an SPF during the day time. All of our age-defying day creams have SPF15 included which is the minimum you should use alongside Retinol.

DOES NO7 RETINOL NIGHT CONCENTRATE EXFOLIATE THE SKIN?
No. Our advanced night concentrate will promote skin renewal on the surface, but it is not technically an exfoliator. You may see some mild peeling as an effect of using it, though.

IS THIS SUITABLE FOR USE DURING PREGNANCY?
No. No7 Advanced Retinol 1.5% Complex Night Concentrate is not recommended for use during pregnancy or whilst breast feeding.

CAN I USE NO7 RETINOL NIGHT CONCENTRATE AT THE SAME TIME AS THE NO7 YOUTHFUL GLYCOLIC PEEL KIT OR THE NO7 SERUM ACTIVATING PADS?
No. In order to reduce the risk of sensitivity, we do not recommend you use the Retinol Night Concentrate alongside these products.

WHAT IS BISABOLOL?
Bisbolol is an ingredient used to help soothe and reduce skin irritation caused by retinol. This skin calming hero, along with the oil encapsulation system, are just some of the ways our complex has been formulated to be kinder to your skin.

HOW DOES NO7 RETINOL NIGHT CONCENTRATE WORK?
No7's Advanced Retinol 1.5% Complex Night Concentrate has a unique combination of 0.3% Retinol + Retinol Optimiser AND our groundbreaking, powerhouse ingredient Matrixyl 3000 Plus™ to deliver breakthrough age-defying results. The 0.3% Retinol blend supports your skin's renewal process, whilst the Matrixyl 3000 Plus™ supports your skin's natural rebound process and tackles the visible signs of ageing. The addition of Bisabolol ensures utmost comfort by calming and soothing skin irritation.

Still not quite decided whether or not No7 Retinol Night Concentrate is right for you? Why not book a virtual appointment with one of our Beauty Advisors who will be happy to help further.

More from No7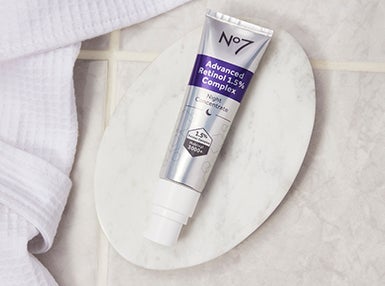 Your Regime
Find your perfect No7 regime
Shop Retinol
Discover No7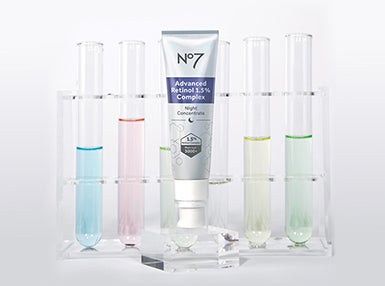 NO7
Whether you're looking to reduce key signs of ageing, soothe dry skin or boost your radiance, the No7 skincare range has it all.
Our new clinically proven No7 Advanced Retinol 1.5% Complex Night Concentrate reduces the look of deep wrinkles, fine lines and pigmentation to live skin feeling refreshed, renewed and restored. No7 helps you wake up to brighter-looking, smoother-feeling skin.
If you're unsure about adding Retinol to your skincare routine, or simply want even more information on the latest, must-have powerhouse skincare ingredient, you can find further advice on our FAQ page